Welcome to Myztro Weekly Updates!

Every week, the Myztudio Team will recap the news, replays, and action from the week prior to keep you updated.

Here's a Message from the Writer, Dylan Winn:

Hey everyone! Welcome to November! We have a few more weeks of 2019 left, so make them worthwhile! Make sure to check your posture while gaming, and get 8 hours of sleep every night, Oh yeah, also drink lots of water!

Here's what went down this week:
Quake Champions
The Stage 1 Finals kicked off this past weekend at Lucca Comics and Games in Lucca, Italy. GaRpY, Vengeur, and RAISY were all in attendance to attempt to become the next Quake World Champion.

GaRpY kicked off the weekend, facing Cypher in Relegation. While Garpy clinched the first two matches and was one match win away from advancing, Cypher clinched the Reverse Sweep and relegated GaRpY into Challengers.
Vengeur had a good showing in Lucca. He was a favorite of the crowd and one of the most hyped players in the bracket, due to his 6-2 run (and previous 6-0 undefeated run) in the Online matches. Vengeur beat the newly-inducted challenger cnz 2-0 in his opening match, then defeated baSe 2-1 to receive a berth into the Quarterfinals. He faced k1llsen next, and that game was arguably the best in the tournament, with the match going to all 5 maps. Vengeur fell to k1llsen 2-3.
RAISY had an automatic bye into the Quarterfinals, since clinching Top 4 in the Stage 1 online matches. He met DaHanG first, which was hyped as a potential revenge match for DaHanG, since he was knocked out of 4th overall by rapha. RAISY stopped that speculation with a clean 3-0 sweep to advance to the Semifinals. He met Cypher in the Semifinals, since Cypher defeated rapha 3-1. RAISY stopped Cypher's dream run with another 3-0 to advance to the Grand Finals, and a shot at becoming the new Quake World Champion. He just had to get through Cooller first. Even through 2 close maps and some fantastic Quake, Cooller prevailed over RAISY 3-0, and with this win, clinched his first Tier 1 Quake championship since 2011.
We're proud of all our players, and we can't wait for Quake Pro League Stage 2 to start on November 17th!
Fortnite
Last week, Tj and Whai took on the world in the FNCS Squads Week 1 tournament.

Whai and his squad, RaisedByKings' Zyppaan, Eleven Gaming's Crippa, and Tchub_, placed 32nd overall in the EU Semifinals, with 59 Eliminations and 2 Victory Royales to total to 101 Points. They placed 7 spots behind Top 25, which ended their run in Week 1.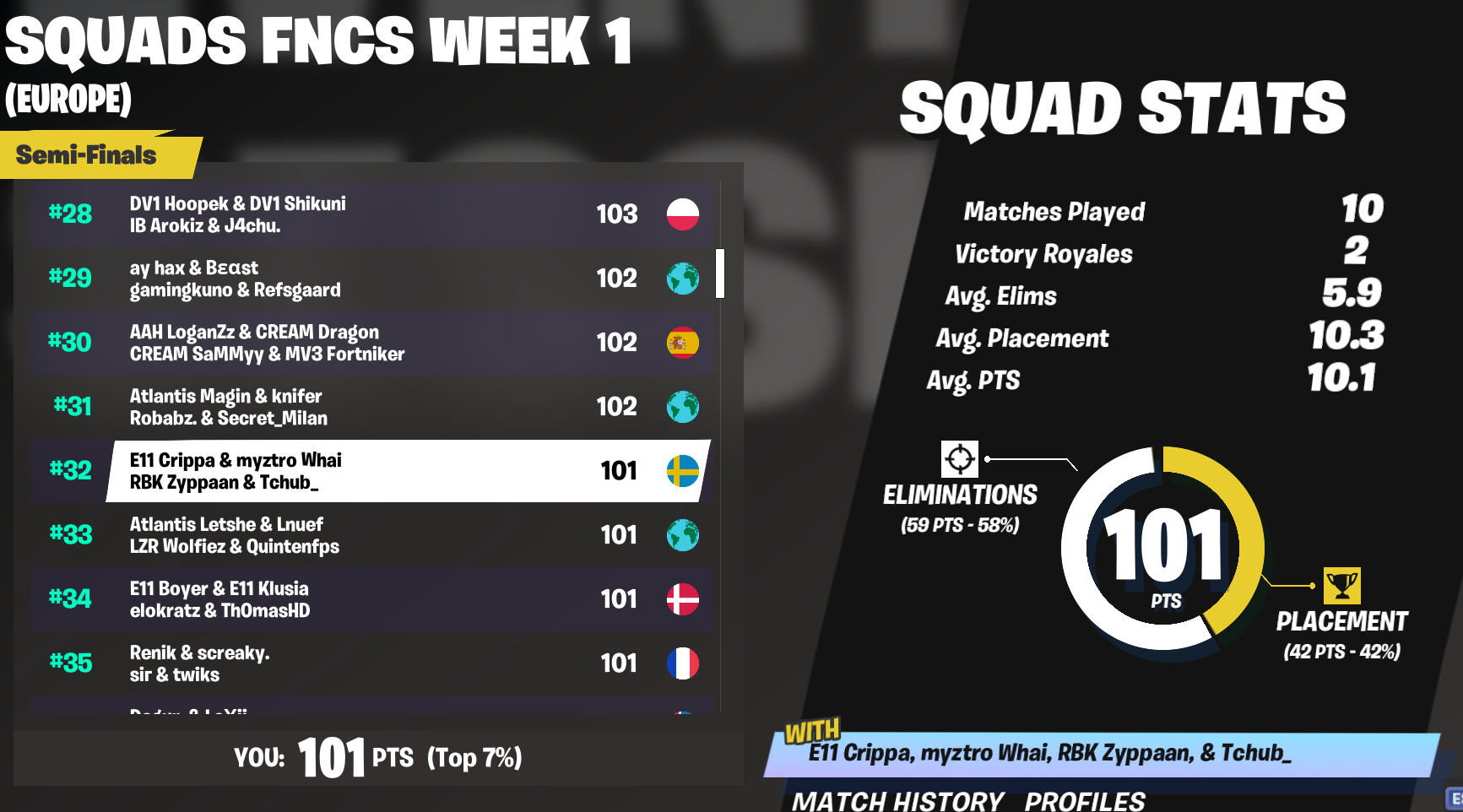 Tj and his squad, FlowiS, mevs, and Severin, placed 44th Overall in the EU Semifinals, with 46 Eliminations and 2 Victory Royales. They placed 19 spots behind Top 25, which ended their run in Week 1.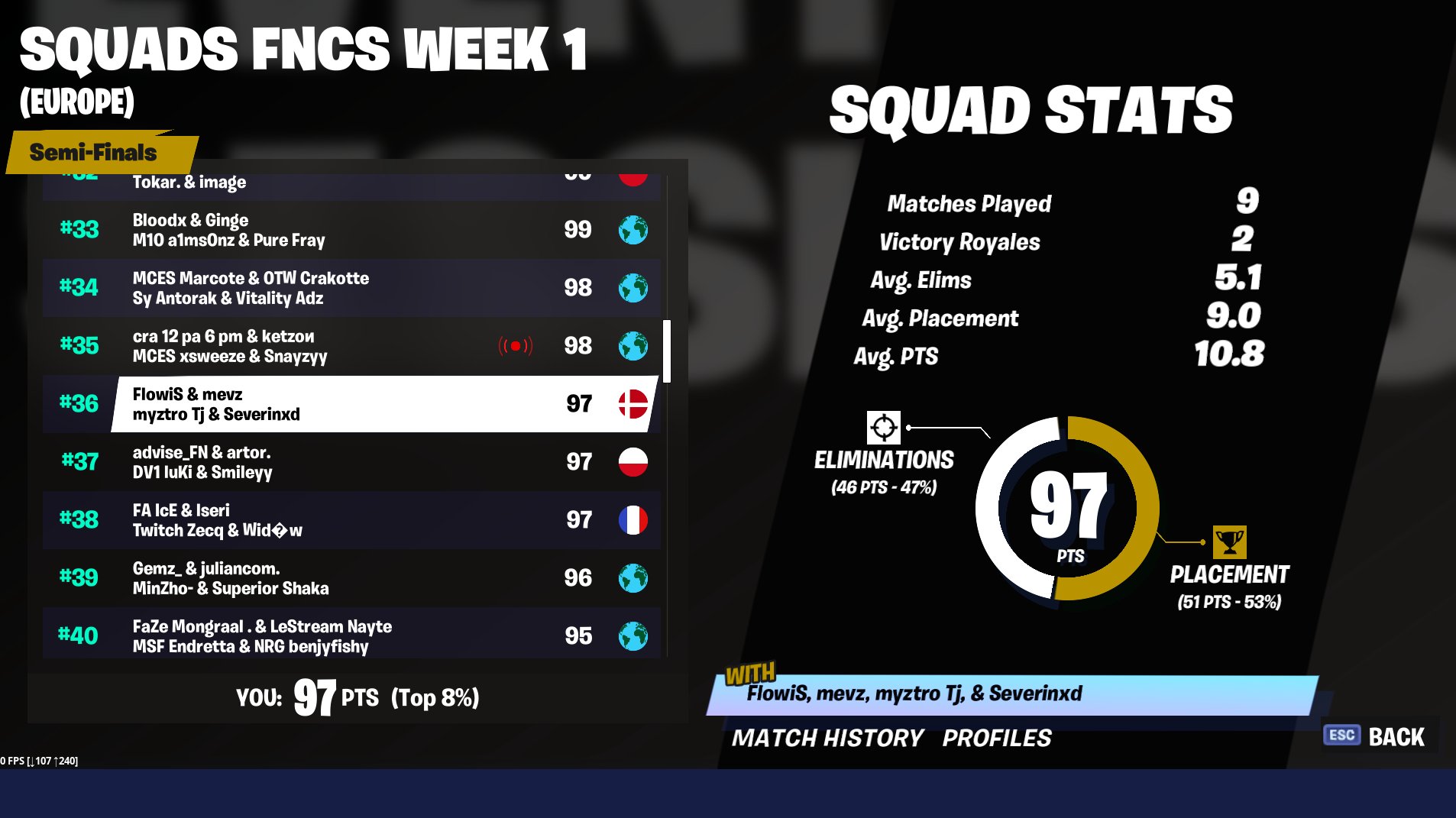 All squads will remain the same coming into Week 2. The squads drop in this weekend, November 9-10th. Follow our players on Twitter for up to the minute updates on scores and placements!

Tj: https://twitter.com/myztroTj
Whai: https://twitter.com/whaifn
Apex Legends
Respawn released Patch v3.1 into Apex on November 5th, which adds some Quality of Life changes into the game, as well as bug fixes and balance changes. Here's some of the bigger additions:
Duos
Apex now has a Duos mode! This mode allows you and a friend to pair up and take down other duos in the arena. This mode was highly requested by fans, as having a random 3rd squadmate when playing with a friend can be frustrating at times. The Duos gamemode is only in the game until November 19th, so play it while you can!
Firing Range
This new gamemode is mainly an overhaul of the Tutorial gamemode and map that's been in the game since launch. This gamemode allows you to experiment with all the weapons, armor, and attachments in the game. You can switch between legends, and new dummies have been added to better resemble player models in-game. Finally, you can enter the gamemode solo or as a squad to practice and warm up together.

This change has garnered very positive reviews from pros and the community, as players wanted a mode to warm up with without having to drop into a full-fledged game.
Balance Changes
A few balance changes came with this update as well. They are:

Wingman

Reduced the headshot multiplier: 2.15 -> 2.1

Changes to Projectile Collision: We've increased the projectile width on some weapons so they are easier to hit with. We made this change to the TripleTake in Season 2 and the following will be updated for this patch:

Shotguns: All shotguns will have projectiles with a small amount of width.
L-STAR
Snipers: The Longbow DMR, Kraber, and G7 Scout.
Quality of Life
Finally, here's some of the biggest Quality of Life changes to the game with Patch v3.1:
In an effort to surface easier challenges to players more often and offer a balanced set of challenges each day, Daily Challenge distribution has been adjusted so players are guaranteed to receive 1 easy, 1 medium, and 1 hard challenge.
You can now spend Legend Tokens to reroll Daily Challenges.

Cost increases with each purchase before capping out at 1000 Legend Tokens.

First reroll: 200 Legend Tokens
Second reroll: 500 Legend Tokens
Third or more reroll: 1000 Legend Tokens for each reroll.

Cost resets every day

You can now adjust the game cursor velocity in Settings -> Controller. This will apply to cursor velocity in all menus including the Lobby, Pause/Inventory menus, and Death Box inventories.
We now show you what Music Pack you have selected while dropping into the map. If you only have the "default" Pack selected you won't see anything.
Improved flow from Lobby to Match that fixes some minor bugs and will hopefully get players into matches a bit faster.

Disabling pregame spawning of players before character selection. This will address cases where players might hear someone voice comms or other sounds before the Legend selection starts.
The "Waiting for Players…" transition now shows the game world instead of a black screen.
Removed the 5 second countdown that would start at the beginning of Legend selection.

Player will now be able to view the ammo types of their squadmates equipped weapons when in the inventory menu.
[Controller] you can now open the quip wheel by holding down on the dpad (you can still do it the old way – open ping menu and press Y)
[PC] Quick Chat binding should now auto bind to F1 if it isn't bound to anything (assuming nothing is already bound to F1)
RANKED MODE
Players will no longer receive a penalty for abandoning a match if they leave after 2 and a half minutes have passed since their Banner was picked up after dying. As a reminder: players will be warned via the menus if their leaving may trigger abandon penalties; if the warning does not show up players are free to leave.
BUG FIXES
Fixed a bug where players would stay in place while the train keeps moving when reviving another player.
Updated the layout of the minimap that was previously showing a route that doesn't exist.
Fixed cases where players could drop into Out of Bounds areas without getting the timer.
Fixed cases of some areas where players could take lava damage near the Volcano when there isn't any lava.
Fixed display issue with post game where it would show you earning 2 battle pass levels for leveling up via Stars.
LEGENDS
Crypto

EMP now will damage armor that players have dropped.
Fixed a bug where Lifeline's drone couldn't heal Crypto while he was in the drone.
Fix for friendly Caustic gas kicking Crypto out of his drone.

Bangalore

Fixed bug where sometimes the missiles from Bangalore's Ultimate would disappear after landing on the train.
We love to see the support Respawn is giving Apex, and we are eager to see how these changes will effect the future of the game.
That's it for this week's edition of Myztro Weekly Updates! Come back next week for the latest Myztro Gaming content!