Welcome to Myztro Weekly Updates!

Every week, the Myztudio Team will recap the news, replays, and action from the week prior to keep you updated. Here's what went down this week:
Quake Champions
Week 9 saw every Myztro member in action. GaRpY, RAISY, and Vengeur all played to score crucial points 2 weeks before the Stage 1 Finals in Lucca, Italy.

GaRpY was first up, facing off against Xron. GaRpY took a close Map 1 11-10 on Awoken, and fell a tad on Blood Covenant, going 4-9. However, a dominant 12-4 Molten Falls victory brings GaRpY the series win, 2-1. He is now 2-5, still in 10th on the EU/CIS Leaderboards, but bringing some heat right before the second LAN of the QPL Season.

RAISY faced Cooller next. Previously, Raisy defeated Cooller 2-1 at the QPL Kickoff at Quakecon, so there were some high expectations for the rematch. Cooller started the series with a crushing 13-6 scoreline on Molten Falls, but after that, RAISY woke up, absolutely dominating Cooller on Blood Covenant and Corrupted Keep, winning 16-4 and 19-9 in each, taking the series 2-1. RAISY sits in 4th Place on the EU/CIS Leaderboards, and sits just outside the Global Top 4, which get a bye into the Quarterfinals in Lucca. More on that in a bit.

Next up was Vengeur, who took on Toxiq. After losing a cutthroat and close game on Ruins of Sarnath 5-7, Vengeur took a map off Toxiq, smashing Awoken 15-7. Blood Run was equally as close, up until the final moments, where sadly, Vengeur lost 4-8. This ended his 6 game undefeated winning streak. However, he still has one more week to prep for, and a LAN to look forward to.

Speaking of a LAN, the QPL Stage 1 Finals will be in Lucca in a little over a week from November 2nd-3rd. This will be the first LAN since Quakecon 4 months prior, and the stakes are high for many. Some, including GaRpY, face relegation into Challengers, as 4 new stars have risen from the two regions: From NA, GNiK and former Myztro player dooi have qualified to prove themselves in Italy, and from EU/CIS, NaVi Apex Player cYpheR and cnz have come to win. The bottom two from NA and EU will face the Top 2 from Challengers to fight to stay (or qualify into) the QPL. On the other side of the leaderboard, the Global Top 4 automatically receive byes into the Quarterfinals. Right now, RAISY and Vengeur are just inches away from the Top 4, both at 5th and 6th. Only one point separates Cooller from the Top 4 and RAISY or Vengeur into the bye position.

Next week, Week 10, will be crucial for points and seeding going into the Stage 1 Finals in Lucca.

Here are the current EU/CIS and World Rankings.
Fortnite
This week, Fortnite released their biggest update yet: Fortnite Chapter 2. This update showed new skins, a new season, and an all-new map to the game, along with a refreshed UI.
I sat down with Myztro's Fortnite duo, Tj and Whai, to talk about all the new changes, and what they expect in this exciting new era for Fortnite.

Dylan: What did you think about the reveal event?

Tj: The Reveal of the event was pretty cool, ngl. The downtime wasn't good in my opinion, but overall the event was nice! Fortnite got a lot of attention that it otherwise wouldn't have gotten, and I think that was the whole point for the event.
Whai: The reveal event was great to start with, the in-game cutscene with the rocket and the meteor was very cool, although that was counteracted by the long downtime of the servers for everyone who wanted to play, which was a negative.

D: How do you feel about the new update and map?

T: The new Chapter 2 map in Fortnite is very nice! I really like the new map, it's very refreshing to learn a new map and to play the game again, and I have a lot of motivation to play again!
W: The update brings a refreshing new aspect to Fortnite, creating new ways to play the game with a new map, whilst also sticking to Fortnite's core game modes. For competitive, the new map is also a very good change as it makes every player have to adapt in a short amount of time before the tournaments, meaning that everyone is on a level playing field.

D: Do you feel like the new revamp and map changes will effect the game competitively?

T: The new map won't effect the game competitively at all, as Fortnite likes making players adapt to new changes. To become the best in the game, you need to be able to adapt to all the changes thrown at you.
W: The new revamp is good for competitive, it changes the way people will play the tournaments and make the game a lot more knowledge based rather than mechanical, as the map is so big, and with the lack of mobility, players will have to structure their rotations and decisions in game a lot more intelligently.

D: Do you feel that these changes may effect competition at Dreamhack Winter?

T: The new season will effect things a tad, since we have about a month to learn the new map, but otherwise I think we'll be fine.
W: I feel that these changes will affect players at Dreamhack Winter in the solo tournament as there is no rotation items currently in the game for late storm circles, players will die quicker in these zones as they cannot move themselves to the next circle without taking huge amounts of damage from players who are already safe.

D: Do you have any other thoughts or insights about the future of Competitive Fortnite?

T: I'm very excited to see what Epic has planned out for the next few years for us! I can't wait!
W: I feel that to improve competitive Fortnite from what we have now, epic should add in one or two mobility items, nerf grenades and fix all the small FPS and performance issues before any of their tournaments or cash cups begin.
The Fortnite Chapter 2 Launch Trailer can be seen here:
Apex Legends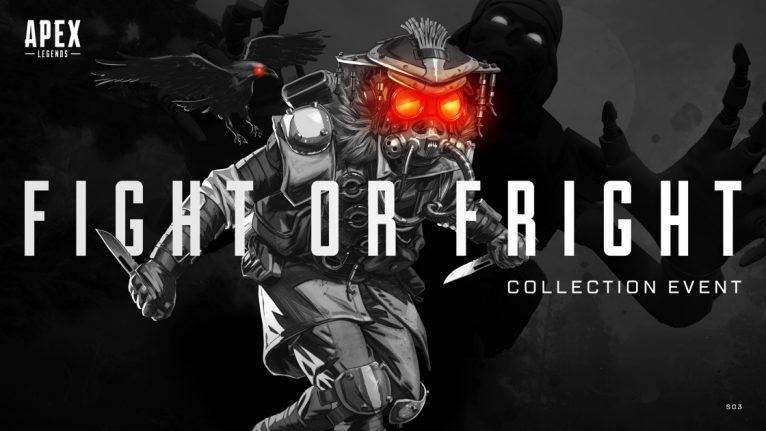 Last week, Respawn dropped their newest limited-time event and gamemode into Apex Legends. The Fight or Fright Collection Event and LTM gamemode Shadowfall will run until November 5th. This event brings new cosmetics into the game, as well as Lifeline's heirloom items.

Shadowfall takes players back to Kings Canyon, in a spookier, night version of the map. 35 players fight off each other, as well as Shadows, dead players who respawn with no weapons and low health, but move faster, have unlimited wallclimb, and have a devastating 150 damage melee attack. As the Shadow Squad grows, the final 10 players must band together to escape on the dropship before it leaves, all while fighting off the growing horde of Shadows.

Along with this gamemode, Respawn added in some fixes and Charge Rifle updates in a patch that went live on the 17th.
The patch squashed bugs with the initial circle as well as quips being played in the dropship. These fixes aren't as major as the Charge Rifle nerf, which makes the rifle use up more energy ammo per shot. The new changes are as follows:

– No Extended Mag = 9 Ammo (3 Shots)
– Level 1 Extended Mag = 12 Ammo (4 Shots)
– Level 2 Extended Mag = 15 Ammo (5 Shots)
– Level 3 Extended Mag = 18 Ammo (6 Shots)

While the nerf will definitely eat up players Energy Ammo reserves, we'll have to see if this reduces the amount the rifle is played in-game.
Now, here's your Myztro Apex Clips of the Week!
Make sure to catch plays like this live by following our Apex players on Twitch!
https://www.twitch.tv/myztrohell
https://www.twitch.tv/myztrogarpy
https://www.twitch.tv/ottr
That's it for this week's edition of Myztro Weekly Updates! Come back next Monday for the latest Myztro Gaming content!